The celerette is a wonderful addition if you are interested in the highest authenticity when decorating a historic home or portraying a person of station in a re-enactment.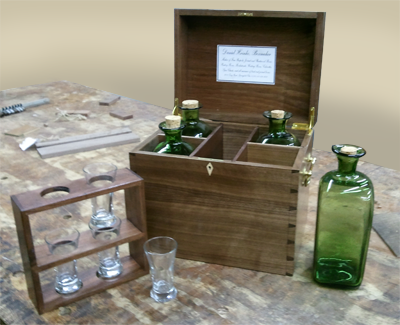 The designs of the celerette made by Daniel are based on examples found in various museum collections and each piece is constructed by hand using historic tools and techniques. Featuring the use of hand-cut dovetails and hand-planed stock, each celerette also includes 4 mouth blown glass bottles. Choose from a celerette crafted using walnut or cherry, with a choice of a flat or raised panel lid.
Feel free to custom design your own personal celerette by discussing your needs and ideas with Daniel. The number of bottles, number of glasses, and arrangement of the particular parts can be adjusted to your specifications. It should be noted that significant variations in the numbers of bottles, glasses, or layout will cause the price to vary.
Delivery time for a celerette is traditionally between 60 and 90 days. For detailed pricing, please visit our pricing page.