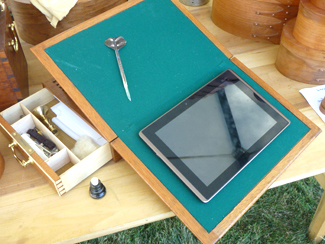 In an effort to maximize his productivity, Thomas Jefferson felt he could make better use of his travel time if he was able to read and write while journeying long distances. After sketching his ideas for a more useful, compact, and portable writing box, he forwarded his drawings to Benjamin Randolph, a Philadelphia cabinetmaker, in April, 1776.
Following Jefferson's drawings, Randolph crafted the desk out of mahogany. The result was a wonderfully functional writing desk, with compartments for pens, ink, sealing wax, paper, and storage for important documents. Jefferson used this desk for the the rest of his life and carried it with him wherever he went.
The writing box gained national acclaim because Jefferson wrote the Declaration of Independence on this very desk. In 1825, Jefferson affixed a label identifying it as the box upon which the Declaration was written.  He gave his desk to his favorite granddaughter's husband after the ship carrying their posessions to Boston sank.  He affixed a label to this box identifying it as the one upon which the Declaration of Independence was written. The original is now in the Smithsonian Institution and is preserved as a National Treasure.
Reproductions of this wonderful treasure are now available using the exact dimensions, original hand tools and historic techniques that constructed the original Writing Box. Made of mahogany, it is still as immensely practical as its' original version designed in the 1770s. For pricing on this heirloom, please visit our Pricing page.